How to take Find Your Path (career interest inventory assessment)
In this article, we will show to how to take the career interest inventory assessment called Find Your Path
Find Your Path is a mandatory career interest assessment every student should take on SchooLinks
1. Accessing Find Your Path
There are two ways to access Find Your Path assessment
You will be asked to take Find Your Path during Onboarding
Click on the Checkmark on the lefthand side and then click on Find Your Path assessment to retake the assessment
2. Take the Survey
Start by following the directions on how to take the survey.
Click on any button or drag the card in any direction to start.
If students see a statement you agree with, you can either swipe (on mobile) or drag (on computer) right or click the green checkmark.
If students disagree with a statement, you can swipe or drag left or click the red X.
If students are not sure about a statement, you can swipe or drag up or click the yellow question mark.
If students want to go back to a previous statement, click the blue rewind button.
Continue to swipe through the cards until you see your results.
3. Selecting Results
Students can click the blue arrows to see all your personality traits
Then students should click on "Careers For You" to continue on to cluster selection
Students should select a Cluster and then click on "Select Cluster", and then click on "Choose a Career" at the bottom
Student then should select a career then click on "Select Career", and then click on "Choose Major" at the bottom
Finally, students can see a list of recommended supporting majors, then click on "Select Major"
Below is what the final result looks like, and you can download a more comprehensive explanation of the assessment results by clicking "Download Results"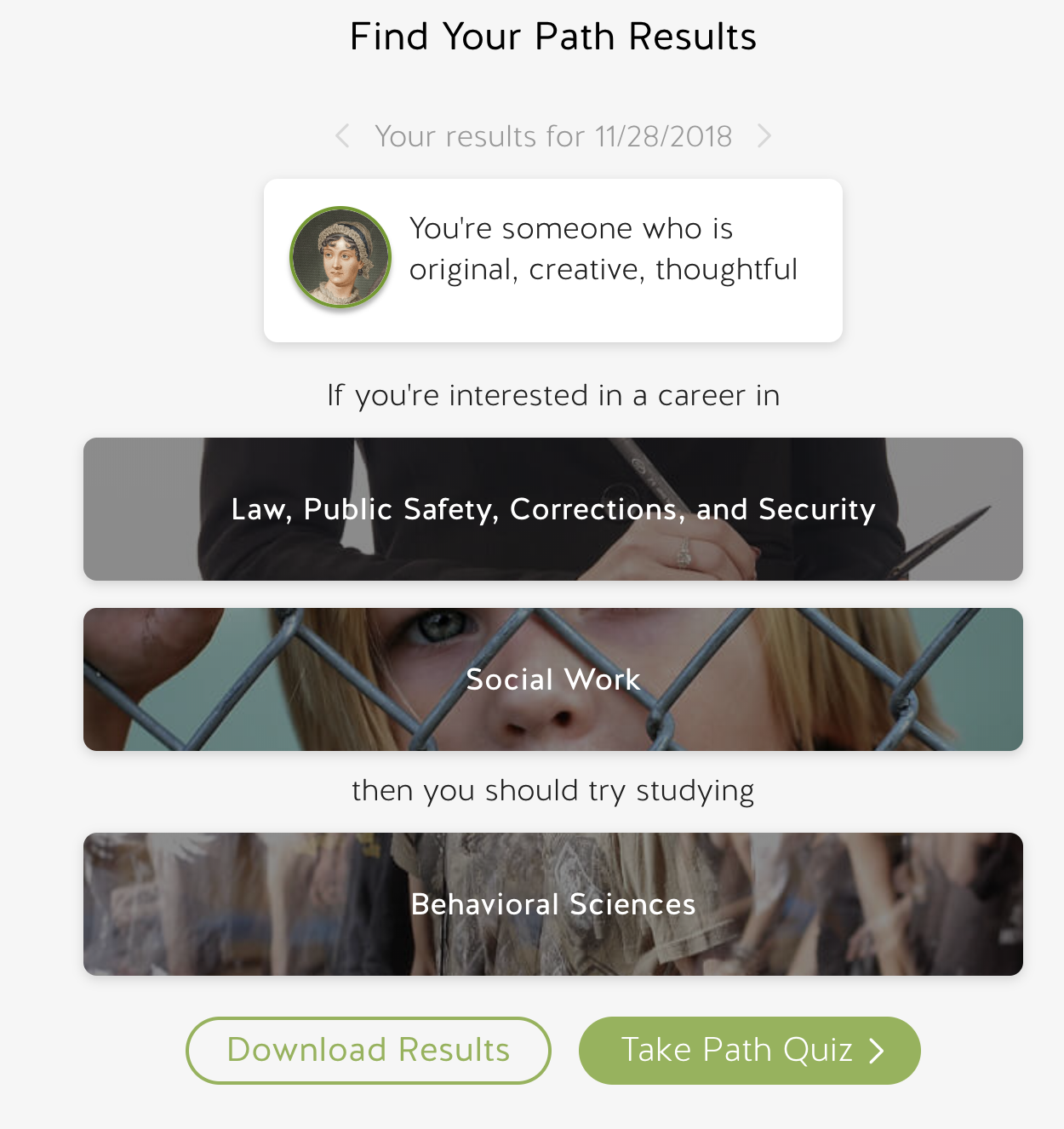 Please note that
students can always retake this assessment
the recommendation are based on student's assessment answers, they can use the career center to explore more careers and goals page to set goals
---
---